Tubing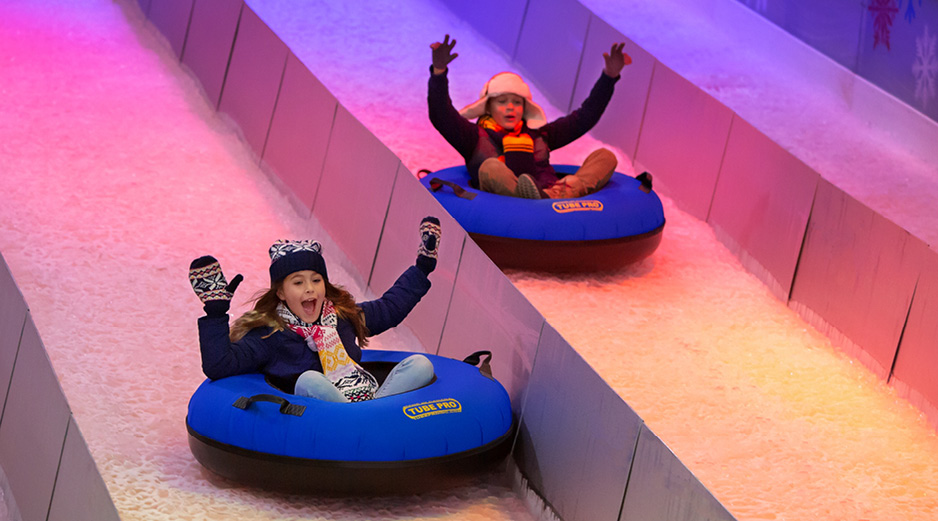 Experience our 15-foot-high, four-lane ice tubing hill. It's all the fun of sledding with the added speed of ice! Race friends and family to see who can reach the bottom first, or ride with a friend on one of our double tubes. This is an absolute blast for both kids and those who are young at heart!
Hours of Operation:
November 11, 2022 - January 1, 2023
Friday & Saturday 10am-10:30pm*
Sunday - Thursday 10am-8pm*
*November 14-17, 28-30 & December 1, 5-8, & 12-15, hours are 3pm-8:30pm
Includes:
All day, unlimited rides.
Know Before You Go:
Tickets must be purchased in advance, online. No on-site box office.

Tickets are non-refundable. Optional ticket insurance is available for purchase.

Event location is Pinetop.

Additional fees for parking are not included in admission and charges will apply.

Other restrictions may apply.
Height Restrictions & Important Information:

Riders must obey the ride attendants at all times.
Riders must be a minimum of 42 inches tall to ride alone.

Children 32 incehs or taller can ride with an adult.

All riders must be in a sitting position, facing forward, with hands inside the ride vehicle.

Riders must not begin the ride until clear instructions to do so have been given.

Riders must remain seated in the ride vehicle until it comes to a complete stop.

Guests are prohibited from riding if they are pregnant, have back problems, or any other health issues that could result in injury or inhibit their ability to understand all of these rules and regulations.
No one should ride if they are under the influence of alcohol, drugs, or other mind altering substances.