Ice Bumper Cars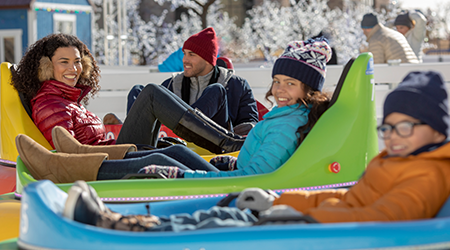 If you like bumper cars, experience the thrill of driving them on ice! Slide, spin, and bump your friends and family as you zoom around.

Price:
$14.19 per person (inclusive)

Hours of Operation:
November 12, 2021 - January 2, 2022
Sunday - Thursday 10am-8pm
Friday & Saturday 10am-9pm





At Gaylord Opryland, the health and safety of our guests remain of paramount importance to us. Effective immediately through January 3, 2021, to ensure social distancing, 1) access to enter the hotel will be available only to registered overnight guests and paid event ticketholders; and 2) access to enter the Gaylord Opryland Events Center and Pinetop area will be available only to paid ticketholders for events located in those areas and to registered overnight guests. We welcome non-overnight guests and non-event ticketholders to visit the hotel and resort property during unrestricted hours. Additional restrictions may apply without advance notice.



Additionally, in accordance with local ordinances and Marriott's Commitment to Clean protocols, face coverings are required by all persons age 2 and older in all indoor/outdoor public areas. To review the complete cleaning and safety protocols, please visit www.GaylordHotelsClean.com



Includes:

Single ride on the Ice Bumper Cars attraction.


Know Before You Go

Tickets must be purchased in advance, online. No Box Office on-site.

Tickets are non-refundable, dates and times cannot be changed. Optional ticket insurance is available for purchase.

Sales will end 30 minutes prior to closing time.

Bumper car driver/passengers:
o Minimum height and age to operate alone: 36
inches / 5 years old
o Children must be age 3-7, under 65lbs, and under
50 inches tall to ride with an adult 18 years or
older and 60 inches or taller.
o Maximum weight: 350 lbs total per car