SoundWaves Cabanas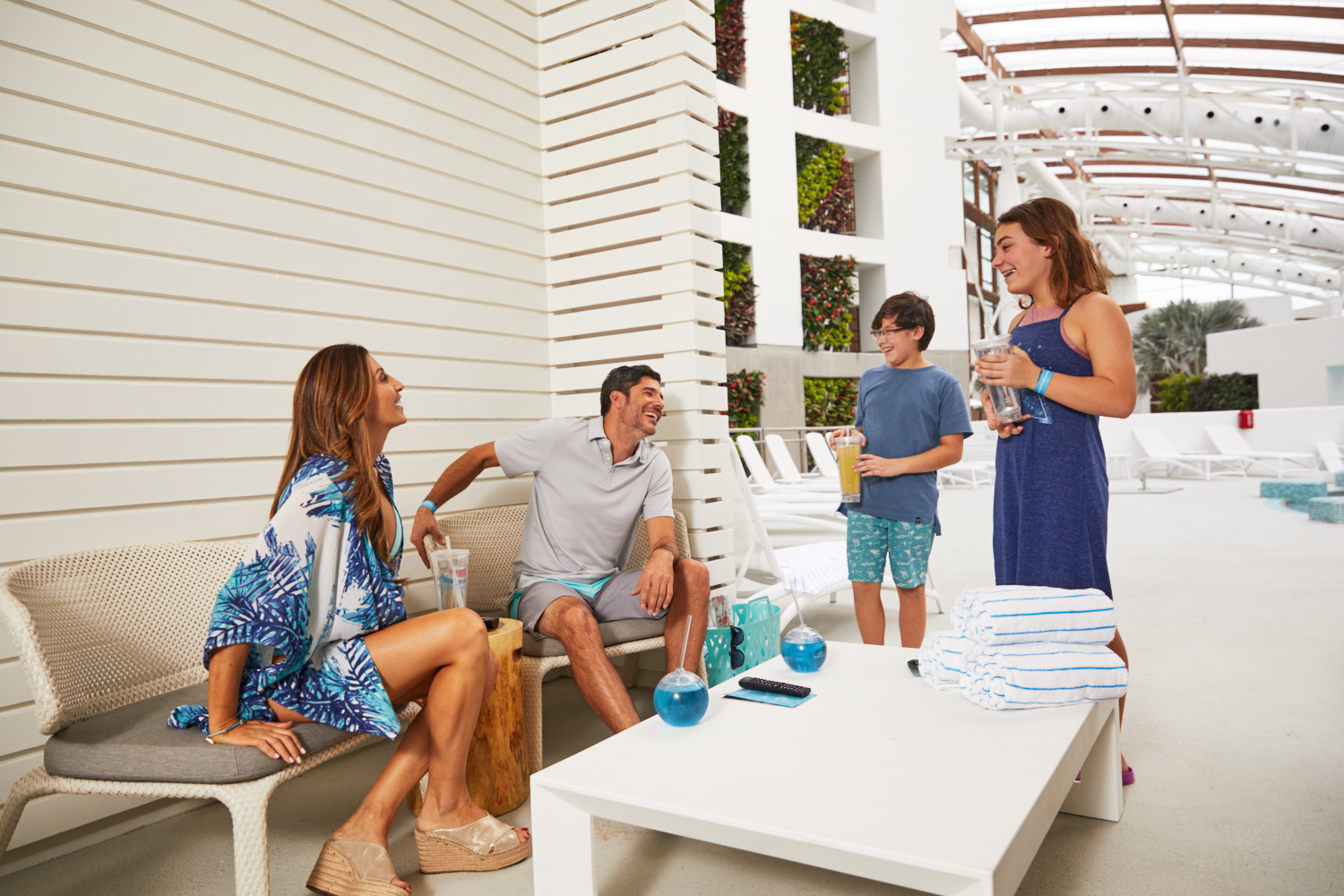 Upgrade your SoundWaves experience and relax in the comfort of one of our private cabanas.
Indoor and seasonal outdoor cabanas are available to rent daily by hotel guests who have pre-purchased a SoundWaves experience. Cabana rentals are an additional charge beyond SoundWaves admission. Cabanas include:
Seating for up to six (6) guests
Four (4) bottles of water
Mini Refrigerator
Ceiling Fan
Big Screen TV
Safe
Access to server who will bring menu orders to the cabana
2023 RENTAL RATES:
Indoor Rates (All Days) - $325.00 per day
Outdoor Rates (Sun-Fri) - $400.00 per day
Outdoor Rates (Sat & Holidays) - $450.00 per day
CABANA DESCRIPTIONS:
Indoor Cabanas 1-3 overlook the Crowd Surfer FlowRider and Down Tempo Lazy River.
Indoor Cabanas 4-7 are located on deck level two adjacent to the Quarter Note and Half Note Coves.
Outdoor Cabanas 8-13** are located on the left side of the Tidal Track Wave Pool, and are also located near the Rhythm Bar and Rhythm Food Truck.
Outdoor Cabanas 14-19 are located on the right side of the Tidal Track Wave Pool, with a great view of the wave pool. They are conveniently located only a short distance from a restroom facility.
Outdoor Cabanas 20-23 are located on the front right side of the Tidal Track Wave Pool giving an expansive view of the front of the pool and a great view of the Tidal Track screen. They are also located near the Rhyme Bar and Rhyme Food Truck.
*Taxes and fees are additional.
**Cabana pairs 8-9, 10-11 & 12-13 can be conjoined to increase capacity, but only in the pairs outlined, and each cabana within the pair is charged for at the rates outlined.
ADDITIONAL INFORMATION:
Cabana Rentals are for registered hotel guests and special offers* only, and reservations will be verified at the SoundWaves Welcome Desk where you will also present your Cabana order number.
Cancellations MUST be requested before 10 a.m. 72 hours prior to the date of cabana reservation. No refunds will be given after this cancellation period.
Cabana locations are not guaranteed, and are subject to relocation without advance notice.
SoundWaves hours of operation and access to the attraction are subject to weather conditions.
During inclement weather outdoor cabanas will be subject to evacuation procedures as part of our safety plan.