SoundWaves Indoor Reserved Family Seating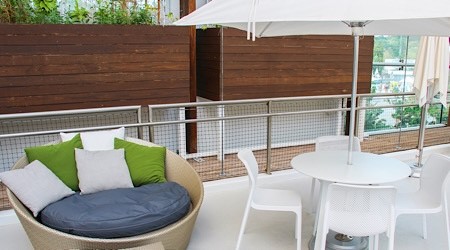 Upgrade your SoundWaves experience and relax in the comfort of our Indoor Reserved Family Seating area.
This family seating area is available to rent now through July 31, exclusively for guests who have confirmed a SoundWaves overnight package. The Indoor Reserved Family Seating area is an additional charge beyond SoundWaves admission. The area includes:
One (1) soft chair

One (1) umbrella

One (1) table and (4) standard upright chairs

RENTAL RATES:

$150.00 per day*



*Rate is exclusive of taxes and fees.

ADDITIONAL INFORMATION:

Guests who reserve this section must visit the Welcome Desk at the main entrance to SoundWaves to receive special wristbands which validates their access to this reserved area.

The Indoor Reserved Family Seating is only for registered hotel guests who have pre-purchased a SoundWaves package experience. Room package reservations will be verified at the SoundWaves Welcome Desk where you will also present your order number.

A maximum of 4 people, associated with your room reservation, are allowed in this area at one time. This will be strictly enforced.
Cancellations MUST be requested before 10am, 72 hours prior to the date of your reservation. No refunds will be given after this cancellation period.
The Indoor Reserved Family Seating area sets (including 1 soft chair, 1 umbrella, 1 table and 4 standard upright chairs) are on a first come, first choice basis.

SoundWaves hours of operation and access to the attraction are subject to change. During inclement weather the Indoor Reserved Family Seating area is subject to evacuation procedures as part of our safety plan.
Chairside Food & Beverage service is not available in this area.